Dr. Eric Kropp Inaugurated as 190th President of the New Hampshire Medical Society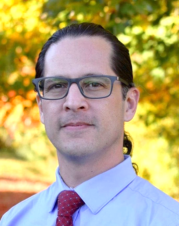 Eric A. Kropp, MD, was inaugurated as the 190th president of the New Hampshire Medical Society during its 2021 Annual Scientific Conference held at the Omni Mount Washington Resort in Bretton Woods, succeeding anesthesiologist Dr. Kenton Allen.
In 2016, Dr. Kropp started his solo practice, Active Choice Healthcare, in Concord as a pioneer in Direct Primary Care and fostered New Hampshire law about this innovative and emerging medical practice model. He is a founding member of both the New England and National Direct Primary Care Alliances.
Dr. Kropp is a board certified family medicine physician. He earned his undergraduate degree from the University of Colorado and medical degree from St. Matthew's University, completing his training at the New Hampshire Dartmouth Family Practice Residency. He practiced for six years at Penacook Family Physicians prior to establishing his Direct Primary Care practice.
Dr. Kropp enjoys practicing a full scope of family medicine, caring for multiple generations of the same family from birth through the end of life. He is passionate about helping individuals set and achieve their own goals for long term health and wellness. As a former national champion cyclist, he has a special interest in sports medicine, and promotes healthy diet and active lifestyles for optimal physical and mental health.
In addition to spending time with his wife and three children in Bow, Eric enjoys playing and listening to music, woodworking, and tinkering with project cars in the garage.
In the coming year, Dr. Kropp will focus on shining a light on the harmful industry norms that drive up healthcare costs, lead to clinician burnout, and detract from patient care in order to foster physician-led innovation to stabilize the healthcare workforce, and prioritize the patient-physician relationship as a core value of medical care across the Granite State.
Founded in 1791, by Dr. Josiah Bartlett – one of our country's founding fathers, and the Granite State's first elected Governor – the New Hampshire Medical Society is dedicated and committed to advocating for patients, physicians, and the medical profession, as well as health-related rights, responsibilities and issues for the betterment of public health in the Granite State.