Attending the President's State of the Union Address to support a new bill to reduce barriers to MAT
Date posted
February 8, 2023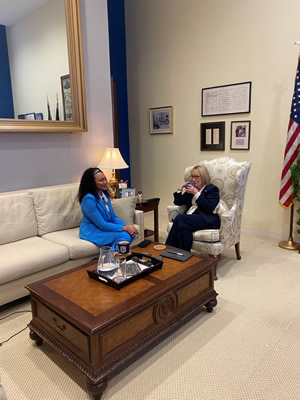 I had the distinct honor of accompanying Senator Maggie Hassan to the President's State of the Union address on February 7th to promote the importance of a new bill that she sponsored to reduce barriers to Medically Assisted Treatment (MAT) for opioid use disorder.
The Mainstreaming Addiction Treatment (MAT) Act, has removed barriers providers face when prescribing buprenorphine. With NH being the second highest rate of opioid deaths per capita, Sen. Hassan agrees that more we can normalize the management of substance use disorder, the more effective the care for people who are effected by the disorder.
During the day I spent with Senator Hassan, I highlighted the importance of integrating preventive care and behavioral health into the management of persons with substance use disorder (SUD). An important next step in addressing this challenge is identifying creative ways to address social determinants of health, namingly housing and food insecurity.
In addition to discussing MAT itself, Sen. Hassan remarked that her hope is to remove the stigma associated with treatment of substance use disorder by creating a culture of wholistic primary care.
In addition to access to care, we cannot overlook the limited supply of primary care in face of growing demand. Encouraging health center-based residency programs, loan repayment programs, value-based care, and maintain reimbursement of both audio and video telehealth reimbursement were topics of discussion.
All in all, my day with Senator Hassan further confirms that we have elected officials who advocate the needs of Granite Staters. However, advocacy starts at home. As physician leaders, now is the time to share your stories, expertise and experience with your local and state legislators. Your NHAFP chapter continues to advocate on your behalf as well.
Be on the lookout for more opportunities to get involved in advocacy.
Marie Ramas, MD, FAAFP